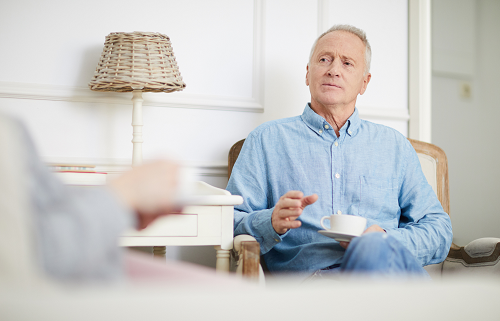 Death is inevitable. That doesn't make it less frightening. Many older adults grapple with fears of death and suffering. Family members may also be worried about loved ones. These are very valid, very sensitive concerns, and it's important for personal care home and assisted living facility staff to know how to broach these issues.
Fears of Death Versus Suffering
Although the ideas of death and suffering can be related and sometimes conflated, they are two separate issues. Because death is a natural part of the life cycle, acceptance of it is important. Suffering, on the other hand, can be avoided or at least mitigated in many cases. Due to these distinctions, fear of death and fear of suffering may need to be handled differently.
Loss of Independence, Loneliness and Death Anxiety
Personal care homes and assisted living facilities can provide older adults with the level of support needed to thrive, but many seniors still balk at the idea of moving into one. The Home and Community Preferences Survey from AARP found that 77% of adults age 50 and older want to remain in their homes a long-term basis.
For seniors who want to remain in their homes but need to move into a personal care home or assisted living facility for practical reasons, the change in residence may trigger fears related to aging and mortality. As these seniors continue to age, develop more health issues and require a higher level of care, their fears may intensify.
Old age is also frequently associated with loneliness. According to a research paper titled "Death Anxiety and Loneliness among Older Adults: Role of Parental Self-Efficacy," available through MDPI, previous studies have found both that roughly one-third of older adults experience loneliness and that loneliness has been linked to death anxiety. Living in a community setting that residential long term care facilities provide combats loneliness and creates a sense of connection.
Belief Systems and Terror Management Theory
How people view death will depend largely upon their personal religious and philosophical beliefs. This is a deeply personal subject, so it's important to respect the belief systems of residents and their loved ones.
An understanding of basic psychological principles can also help. Terror management theory describes how people protect themselves from fears of mortality. Cambridge University Press published a paper called "Older Adults and the Fear of Death: The Protective Function of Generativity," which found that older adults do not use the same defenses as younger adults regarding fear of death. While younger adults may embrace healthy behaviors in response to increased awareness of mortality, older adults are less likely to do so, perhaps because they accept death as inevitable. Instead, they may focus on leaving a legacy. Counseling and initiatives that focus on legacy-building may help seniors cope.
Helping Residents and Their Families
When talking to residents and their families about issues related to death and suffering, it's important to show compassion, respect and practicality.
Many personal care home and assisted living facility residents are still active and capable of living fulfilling lives. If residents have just moved in, they may feel depressed about their new situation, but you can show them the positive aspects of residential long term care, and encourage them to engage in socialization, hobbies, physical activity and volunteerism.
New residents' family members may be dealing with fears for their loved one as well as feelings of guilt. Encourage family members to talk to their loved one, visit often, share stories with caregivers and other residents, and provide personal belongings to give the new home a personal touch.
Older adults dealing with serious health issues may have different needs. According to National Institute on Aging, people who are receiving end-of-life care typically need help in four key areas: physical comfort; mental and emotional needs; spiritual needs; and practical tasks. Below are three things to keep in mind:
Don't dismiss physical discomfort. Discuss what you will do to relieve pain, digestive problems, skin irritation and other causes of physical discomfort.
Older adults may struggle with practical tasks, such as making sure that their personal affairs are in order and their responsibilities are being handled. Knowing that these issues are being handled can give them peace of mind.
Also be aware of mental, emotional and spiritual needs. Both residents and their families may need support in these areas. Encourage them to talk about their feelings and provide access to counseling as needed.
Staff at personal care homes and assisted living facilities can get very busy, but it's important to remember that the residents are often going through a difficult time. Having someone take time to listen to them and to show interest in their life may make all the difference to an older adult.
Caregivers do their best to help residents cope with fear of death and suffering while providing excellent care. Nevertheless grappling with heightened expectation and emotion as well as the inevitable adversity we all face at the end of our lives, i.e. falls, lawsuits are common.
Is your facility protected with the right insurance coverage? If you have questions about coverage or would like a quote, contact us.